Looking back, I'd say my career path took unexpected twists and turns, but eventually led me to a place where I always imagined myself—working at a game development company.
When I was a kid, my excuse for playing video games was that I was gaining experience and seeing the mechanics and art styles of the games because one day I will be making them. And thanks to Talent Camp, that's exactly what happened!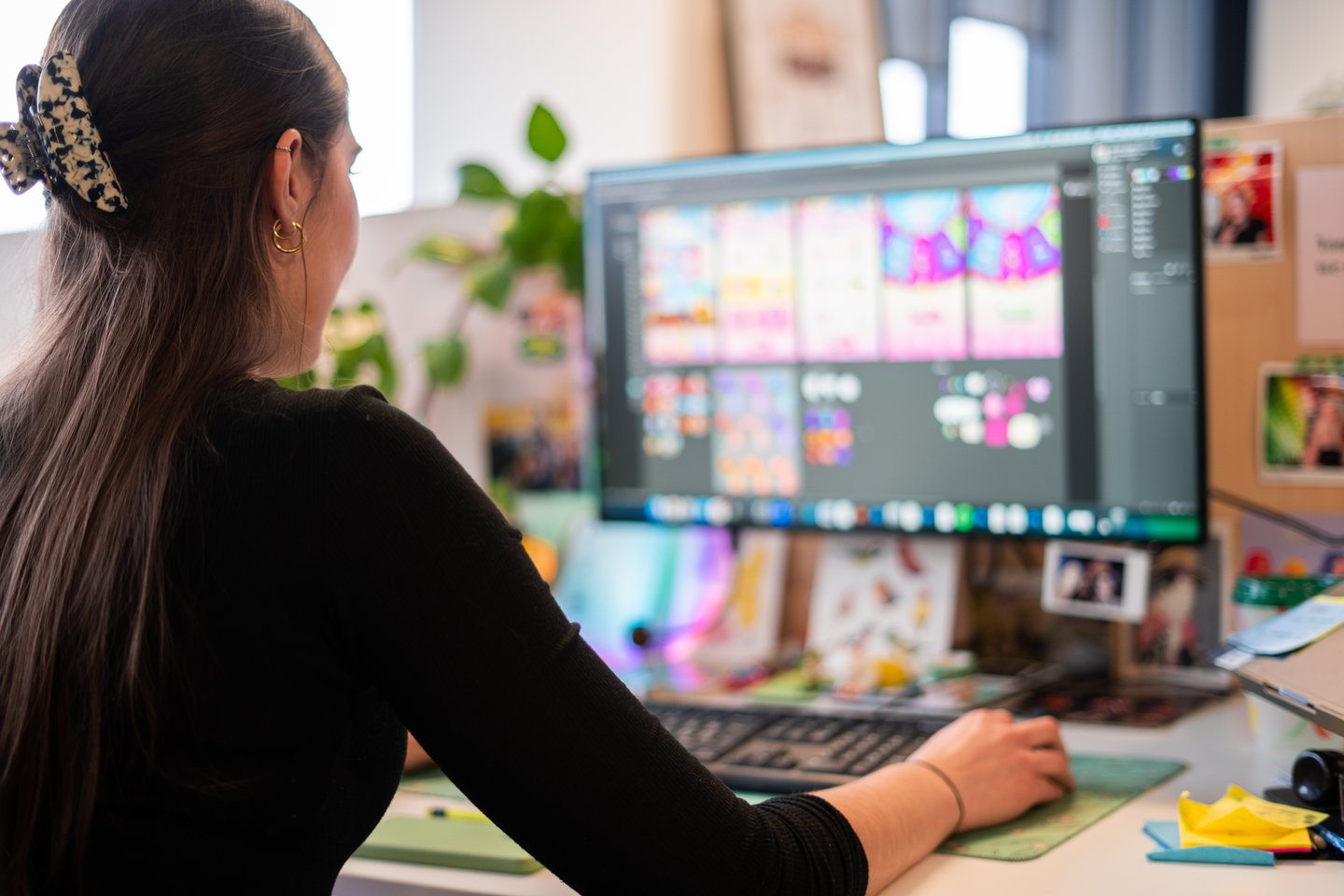 From Game Jams to Outfit7
My journey to Outfit7 actually began when I participated in Game Jams back in 2017. It was my first taste of what it was like working on creating a video game, and from that moment on, I was hooked. I had the chance to collaborate with different artists and programmers to create fun little games in a few days. Plus, it was great meeting like-minded individuals who shared my passion for creating video and mobile games, some of whom were already part of the Outfit7 crew.
I first attended Talent Camp in the summer of 2019 by applying for an art position. Back then, that was the area I was interested in, but little did I know this would actually be the first step in the direction of my true calling- UI! I can't describe how happy I was when I was selected to participate and I knew it was going to be an experience I would never forget. And saying that my experience was awesome is an understatement!
Let me share this one challenge that sticks in my memory. Before coming to Talent Camp I had zero experience with game tiles or patterns. It was a whole new world for me! I had to figure out how to create those magical pieces that could be replicated and sprinkled throughout the entire game. It wasn't a smooth ride, and I needed a few attempts, trying to craft a tile that fits flawlessly without any pesky glitches or blunders. But you know what made it all fun and not frustrating at all? My incredible team had my back and showed a lot of patience throughout the process, so I am still grateful for that.
Now, I work as a UI artist in Outfit7's Game Art branch. I work on various games, from the ones that are still making baby steps and not presented to the world, to others more known like My Talking Angela 2. Talking Tom Gold Run and My Talking Tom 2.
A Childhood Dream Realized
The idea of working here at Outfit7 was always on the back of my mind but I chose to be a freelancer first. That way I gained a lot of valuable experience, such as communication and organization. But let's be real, as much as I loved freelancing, I missed the thrill of working with a team and creating something together. So when my now coworkers asked me if I wanted to join the team, I jumped at the chance. And look at me now, having the best of time at Outfit7!
Through my work, I contribute to creating visually engaging and user-friendly experiences for players. Even as a child, I envisioned myself working for a game development company. I used to justify my love for playing video games by telling myself that I was gaining experience and studying game mechanics and art styles to prepare for my future career in game development.
Throughout the camp, I learned the power of collaboration and communication within a team and the importance of transparency and problem-solving within tight deadlines. And to this day, what I learned then continues to influence my work at Outfit7 today.
Looking back, Talent Camp had a huge impact on me beyond just developing my artistic skills. It boosted my confidence, and my communication abilities, and gave me a whole understanding of how the game industry pipeline works in general. I saw how different people with different knowledge can come together and create pure fun and enjoyment for other people to play.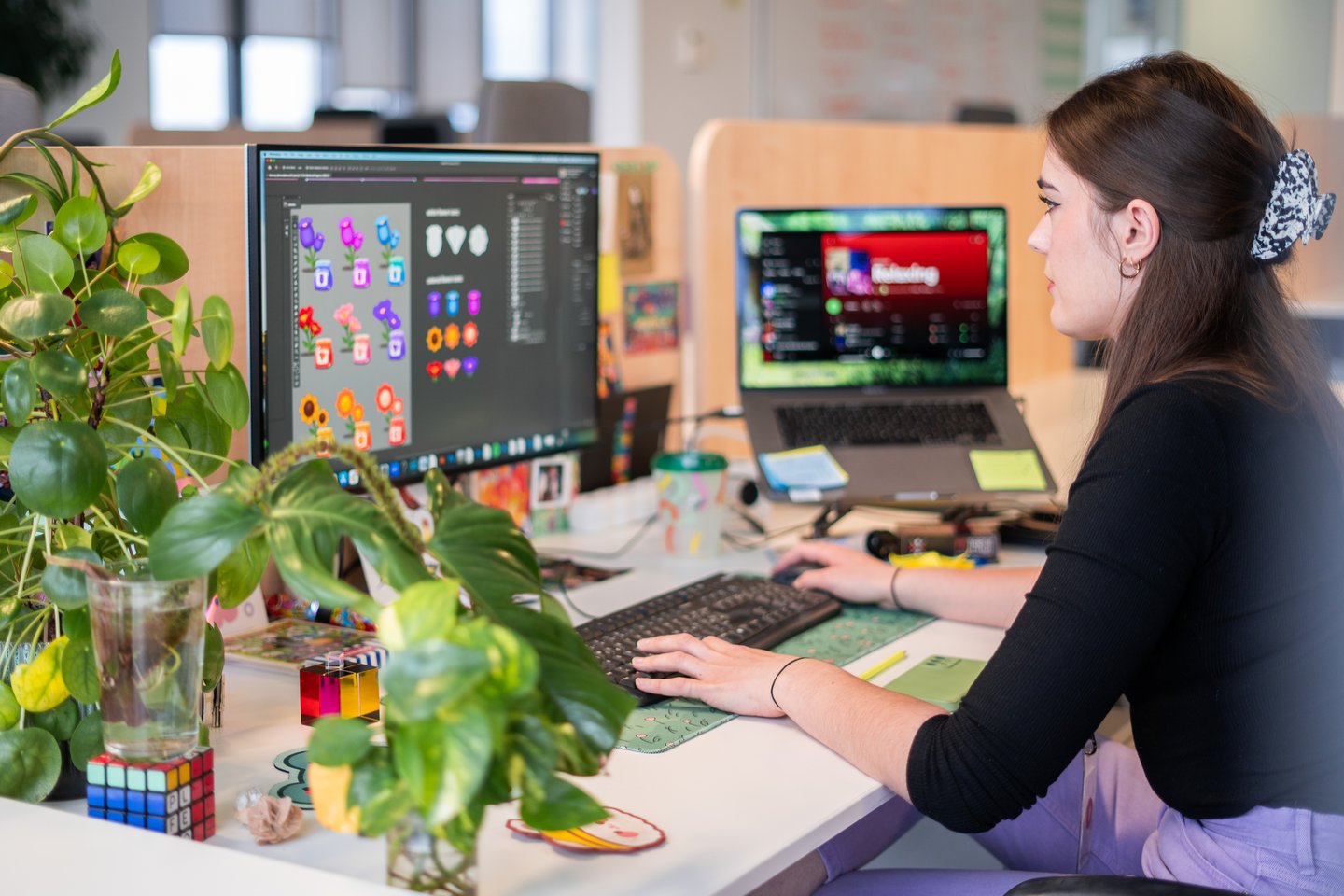 Embracing the Magic of Talent Camp
My journey to Outfit7 has been an incredible adventure filled with growth, challenges, and rewarding experiences. From my humble beginnings attending game jams to the transformative experience of Talent Camp, each step has shaped me into the artist I am today.
I am grateful for the opportunity to work with a talented team and contribute to the creation of captivating games. If you have the chance, don't hesitate to embark on your own journey, as you never know where it might lead you.
I wholeheartedly recommend budding artists to seize the opportunity to attend Talent Camp. The rewards are immeasurable. From expanding your artistic horizons to forging lifelong friendships and collecting cherished memories, Talent Camp allows you to weave your own story into the vibrant tapestry of the gaming industry.
Embrace the adventure and let the magic of Talent Camp unfold!
Want to share this article?