My route to games: Primož
The idea of working on games for a living seemed like a long shot. For me, that changed in the third year of college, when I had to make a game for a class I was taking, and I had to get an internship in order to finish that year. So I decided to combine the two. I posted in a Facebook group for devs, explaining what was going on and asking if any companies would be interested in having me as an intern. I wasn't seriously expecting anything. But then I got a message from Outfit7.
Getting that message was the moment things changed for me. Suddenly, the idea of making games for a living felt possible. But first I had to make a game for my course – and I only had two weeks left before the deadline…
I turned to my friend Domen for help. He'd started programming in high school and spent his weekends making games, so I figured if anyone could help me, he could. And I was right. He was really supportive and gave me the help I needed. And as a result, my first step into game-making was a success! I made my first Unity game, aced my course, and got a chance to interview for a job at Outfit7.
I needed an internship: Domen
Around three years after that, I was in the exact situation Primož was in – in college, needing an internship, and making a game for my course. This time, I called Primož! I mean, every time we hung out, he had some amazing news to share about Outfit7, like a new game they were working on, an award they'd won, some cool new swag they got as a gift… Just everything about the company sounded exciting. It had this really positive energy about it, and I knew I wanted to be a part of that.
So I called Primož, and I'm so glad I did. He immediately referred me for a job, and the rest, as they say, is history.
What we're doing now: Primož and Domen
Today, we're actually both working on the same project. What's interesting is that Domen has been part of this project longer, so now he's showing Primož the ropes – even though Domen's supposed to be the newcomer here!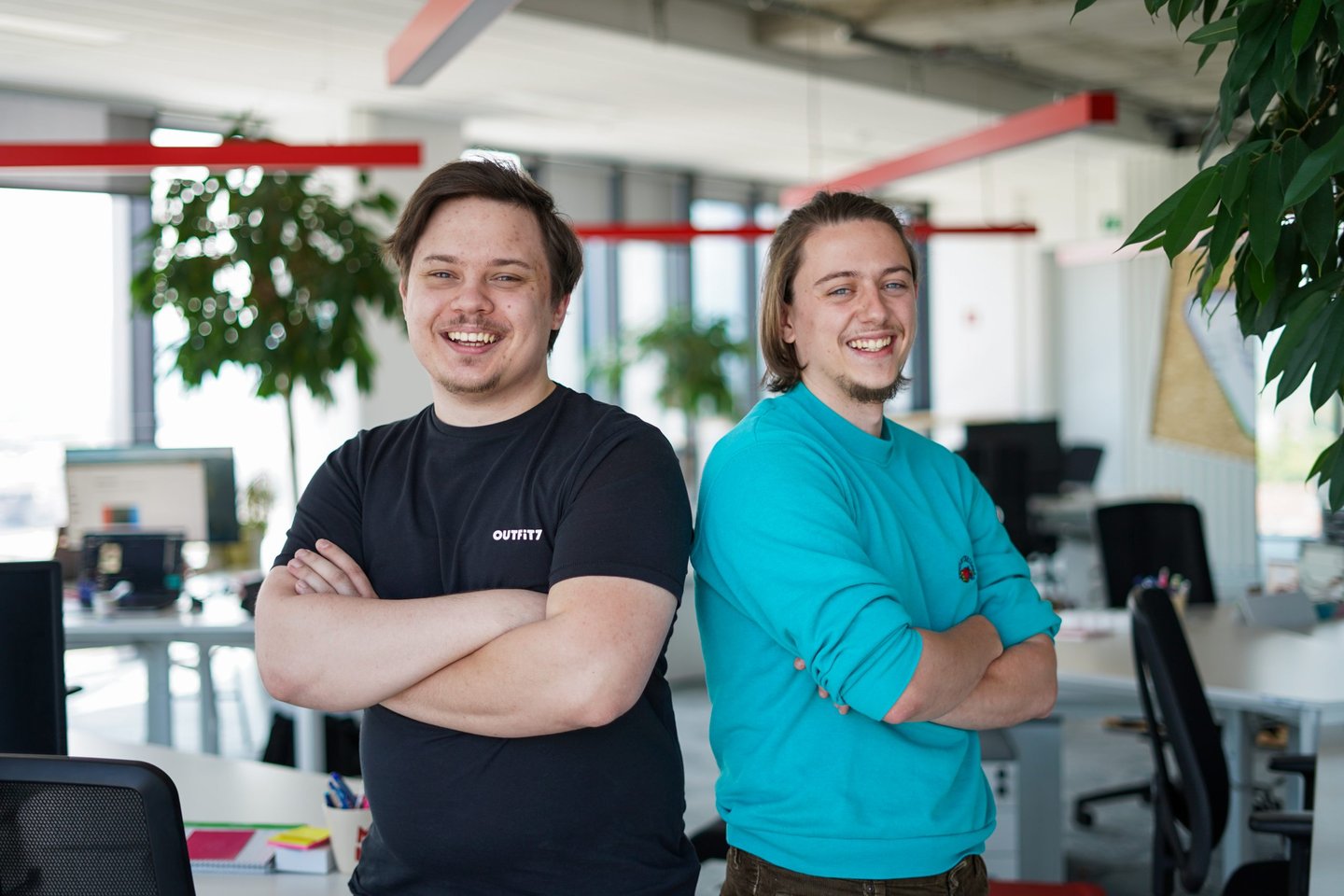 That's what's so great about Outfit7 – anyone can learn from anyone. Every person on the team is happy to take the time to help out, share their knowledge, and offer advice. It doesn't matter if that person is a junior engineer or a VP. For those of us who are still early on in our careers, that's invaluable.
For people who grew up loving games, getting the chance to talk to people who know basically everything there is to know about making hit games is a true privilege. And what's special about our team is that those veteran teammates are willing to listen to us too. It's all about working together, learning from each other, and finding ways to create great games the whole world loves to play.
The two of us helped each other become part of Outfit7. And if any of our friends want to work in gaming as well, we'll be happy to refer them too. It's a win-win! Our friends get to work on cool projects and grow their careers. And Outfit7 gets more people who already love spending time together, and who bring out the best in each other.
Want to share this article?